Instagram is one of the smashing and most celebrated social media sites. Currently, Instagram is a trending platform that has bags of unique features to entertain. It keeps updating its features, relying on users' needs and satisfaction that's why it has the highest engagement, especially on Instagram stories. Mostly all types of business professionals and marketers make their own Instagram. So it's not only meant for amusement but also commercial purposes. Marketing on Instagram Stories is an effective and worthy method, even if you have small budgets for your business. Moreover, through Instagram story, you can effortlessly earn lots of budding customers.
Instagram story is one of the greatest gifts for the people who want to enrich their engagement rate on Instagram accounts. It doesn't matter whether you are beginners or existing Instagram users. The Instagram story will help reach tons of potential customers. Simultaneously, including the Instagram story as one of the marketing strategies may quickly help achieve your marketing goals.
Let's start,
Introduce Seasonal Offer With Time Limits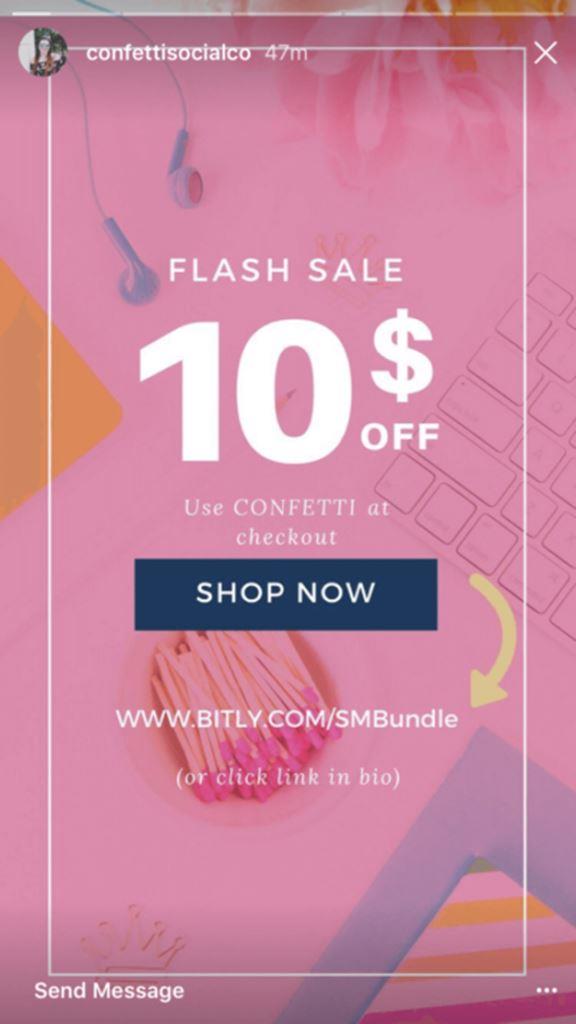 You all know that Instagram stories will vanish after 24 hours; within that period, you must make use of this stage effectively. You can introduce offers or discounts within that short time that is perfectly fit for your limited offers. Due to restricted offers, people rush to your website or online store to fear losing the offers. You can expand the audience engagement rate in that particular period. Don't provide offers or discounts on regular days; instead, you can run seasonal offers to celebrate any occasion or function.
Running seasonal discounts drive more sales for your website; moreover, you can increase your website traffic rates.
Use Hashtags
Nowadays, hashtags are the root of exploring or discovering any post or content in all social media apps. Hashtags are unavoidable stuff on your post. Hashtags help the audience to find content based on their interest. If you want terrific results, then post a limited story with the right hashtags. It would be best if you did some research on finding the right hashtags for your story post. Keep an eye on trending and popular hashtags in your industry and try to match with your content. Your post may appear on their page when your focused audience browses content with their beloved trending hashtags.
Remember, don't use too many hashtags on your post to ensure it is relevant to your story.
Schedule Your Content
Posting frequently may help to maintain constant engagement among your followers. Gaining engagement is essential but continuously holding their attention matters. This can be easily achieved by posting consistently. Scheduling your Instagram story post helps you post regularly on Instagram without any excuses. Also, you can post with equal intervals.
You can go for a scheduling tool to plan your content for your future. It is used to prepare the content according to upcoming events, holidays, and more.
Publish Trailer For Product Launch/ New Content
If you are planning to publish any new content or you are in the aim of launching any new outcome, you can use an Instagram story for advertising it before the release. Before the launch, you can post a sneak- peek or an eye-catching trailer about your new content or products. By doing this create hype or eagerness among the audience about your trailer. People eagerly wait for your launch and release date. When you announce the date, you can expect more people for your launch.
Upload More User-Generated Content
Most business owners facing challenges on Instagram are managing their posts and creating engaging content for their account. But, through user-generated content, your account quickly gains trust and loyalty among your audience. For this type of content, you don't need to spend much time creating the content. User-generated content drag lots of story views and also more recognition to your account from your audience side. You can increase your user-generated content by asking from your followers, and if your followers share user-generated content, appreciate and encourage them.
Partner With An Influencer
As I mentioned earlier, marketing on Instagram stories is most outstanding; on the other side, you can try influencer marketing to maximize your engagement level. Influencers will post high-quality content to their Instagram story that easily promote your brand. Through this, you can bring more new people to your Instagram accounts. Once they like your content on their influencer profile, they will soon visit your profile. And they start viewing all your feeds and stories post that way. You can increase your engagement rate.
Listen, while influencers to your account, ensure they have sufficient followers and engagement rate. Most importantly, check if they belong to your industry and give them enough freedom to proceed with their action. Be clear with your objective and needs and transparent with your influencer.
Check Your Key Performance Indicators 
Tracking your performance is crucial to proceed with your action based on your current progress. Key performance indicators for the Instagram story include giving replies to your story, forward taps, backward taps, story exit, story views, and impressions. Checking KPIs for overall Instagram accounts helps to enhance your strategies and enable audience preference. Tracking assists you to get the most engaged hashtags, stories. After gathering all those data, try to analyze them.
Engage With Your Followers & Get Their Feedbacks
Instagram stories have more chances to initiate a conversation with your followers, and you can use this stage to engage a lot. Make sure you use this place properly to construct a good relationship with your fan following. Ask your followers questions and try to collect opinions or suggestions regarding your products/services, posts, and more. You can ask endless questions to them. Be friendly and give instant replies to their queries.
Concentrate On Posting Behind-The-Scenes Content
If you keep on telling or expressing yourself may feel you are posting too much self-promotional content. Instead, partner with your team or employees to give entertaining at the same time, promotional content. With the help of behind-the-scenes, you can tell more about the company, culture, employees, events, and meetings which your audience never experiences. For example, if you organize a particular product launch or any events, you can shoot all those processes under that specific event. Behind-the-scenes is trending among all business people to showcase their company. Luckily, it helps to promote or influence your brand or products indirectly.
Make Use Of Instagram Stickers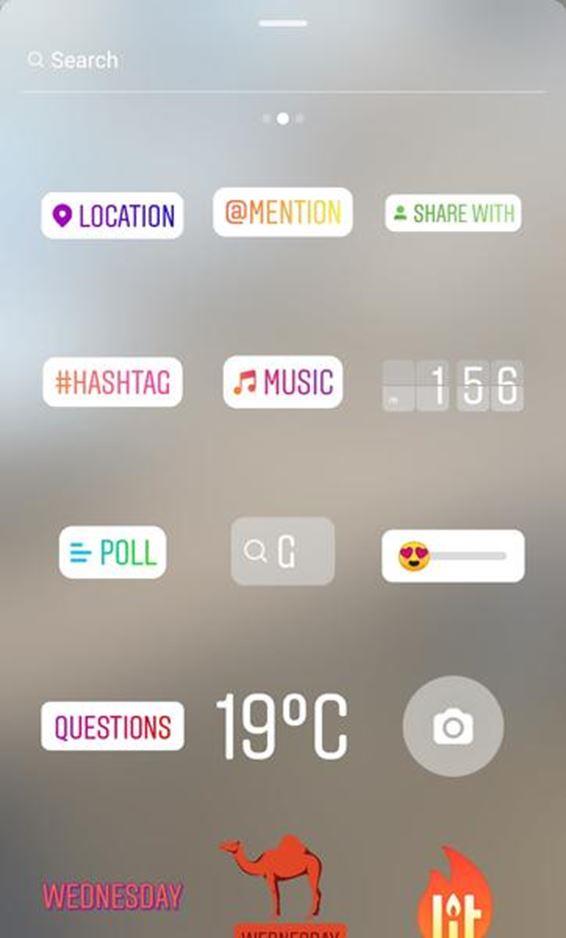 On Instagram stories, you have a variety of engaging stickers that help to increase audience interactions. There are plenty of stickers like a countdown, polls, questions, music, Gifs, quiz, location, hashtags, time/weather, and more. Additionally, depending on your emotions gifs, stickers are available to add emotion or feelings to your story and use those stickers. These stickers will drive more engagement, and you can catch the audience's attention.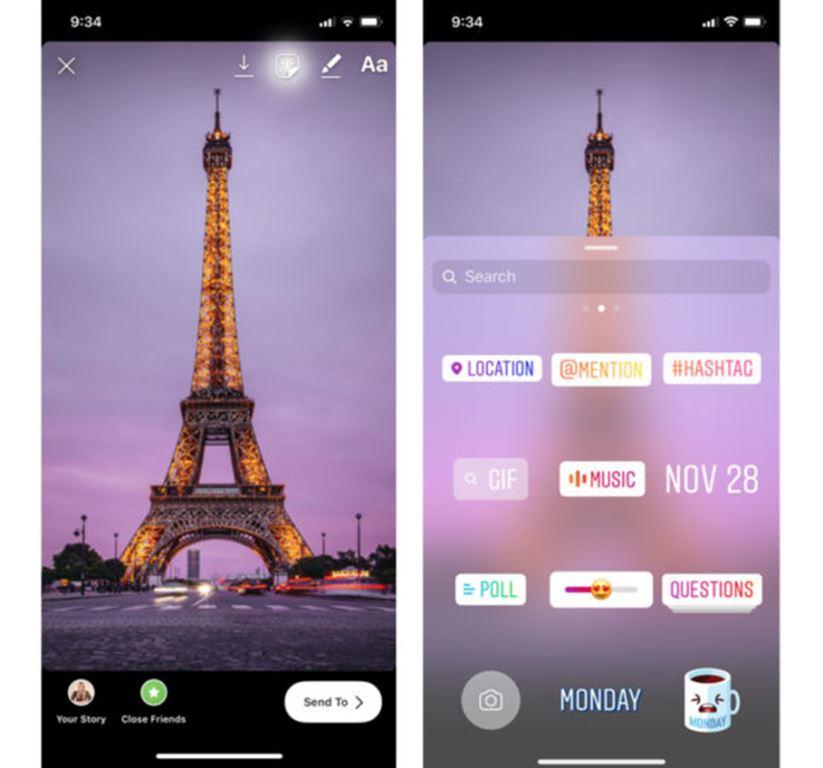 Using poll stickers, you can know the results or percentage of any topic from your audience. By the result, you can get the people's opinion or feedback about a particular topic. Question tag allows people to ask questions to you. They can ask questions about anything. They may ask about your business, products, or any personal question, even they may seek any suggestion or recommendation for their problems. This helps to promote your products or brands.
Use this stage wisely by asking for your products' feedback and any better suggestions to improve your business. People love to give feedback or to share their opinions.
Telecast Your Live Events
You can directly telecast any special events in your company like a product launch, interviews, free lessons, and any meetings with the experts. Sure, when you go live on Instagram, your followers will get an immediate notification. It will create hype that encourages the followers to join in the live.
You can use the live option to get instant engagement from your audience. Moreover, you can gain immediate engagement using Snaphappen Instagram story views which helps build a strong bond with your followers. You can speak directly with them, and they can also respond to your actions.
Use Highlighting Features
Of Course, you all know that you can use highlighting options to showcase your stories on your profile page. So your stories will last after 24 hours. Highlighting your stories is like giving alertness or remaining again about your products or brand. Moreover, you can use this place to showcase your products or brands, give proper title, and cover photos. You can keep a short intro about who you are, what your business is about; this information will be useful to newcomers. Great content needs to be saved and highlighted too to attract new audiences.
Share Your Favorites
Don't put too much self-promotional content; instead, make them entertaining. You can give suggestions or share your favorite stuff like movies, books, or any products you like most. It will be quite different from other contents.
Value Your Followers
Your followers are your most significant strength, right; spend time with them. Value their time, give appreciation to their constant love towards you and your account. You can give them special offers, discounts occasionally part of your marketing strategies.
Host Giveaways & Contest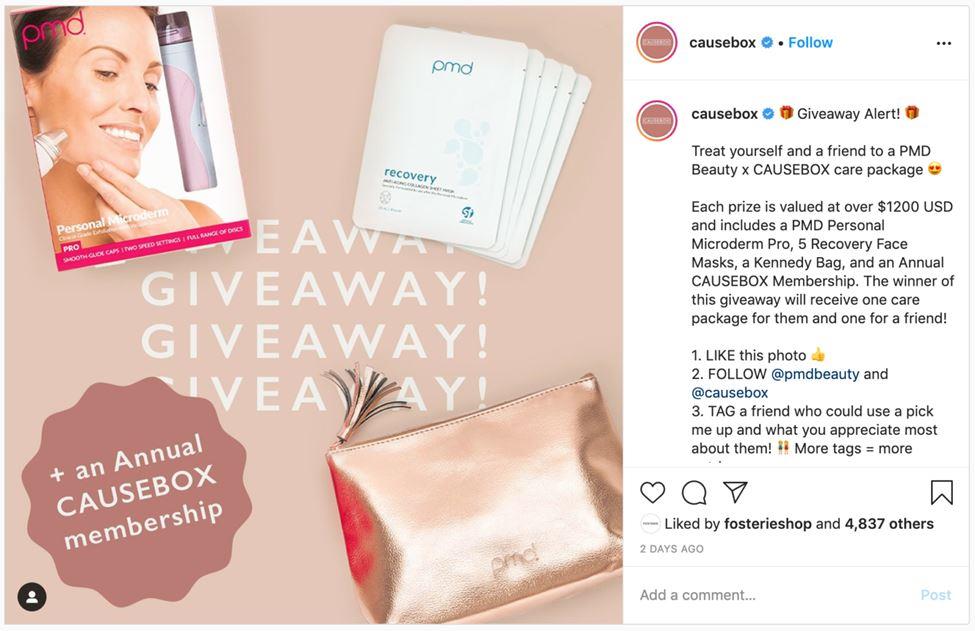 Hosting contests and giveaways club your audience together at the same place. It is a great way to promote your account outside your Instagram account. When you have an idea to run giveaways, be clear with your conditions and provide concise information about them, including timings, need to enter, timings, prizes.
Winding Up
Instagram is the most trending app currently, and its youngsters favorite app. It is the best platform to begin your business. If you follow the right marketing strategies, you can succeed in your goals quickly. Engagement is the critical factor in everything on Instagram, so try to maintain maximum attention for your account.
Mary Kyle is a content developer and marketing manager who works at Snaphappen. She has written more trending articles on social media and has a handful of experience in delivering engaging content.